What's going on in the world of SBIR and STTR Grants?

We often make assumptions that companies and the public sector folks that are involved in the SBIR/STTR solicitation and grant process are familiar with all aspects of the program. Then you talk to a peer in another company, or meet with a government representative or come across information on the web and realize, "I didn't know that, or they didn't know that, wow".
However, as you consider the breadth of the program and the numerous entities involved, it really is no surprise that beyond one's direct area of involvement there is much to learn.
---
SBIR & STTR Grant Awards by State
An example is the available statistical and historic information on SBIR/STTR activity. On the main SBIR site under Awards there are many useful reports and profiles on the program's activity. This can be used to track government funding and budget trends, which sheds light on the key interest areas of the government. The government agencies interests are driven by developing innovation, but also about the needs in today's environment. The SBIR reporting can help companies keep abreast of these needs to stay competitive.
The top five states for issued awards are California, Massachusetts, Virginia, Maryland and New York. If your company resides in one of those states you know you are surrounded by a lot of competition, but also expertise for partnership opportunities. Report filters can be used to identify the companies in your state and what grants they are being awarded. Do these companies have similar areas of technological expertise as your company? If the answer is yes, in what government agencies are they being successful? A startup company can look at subsequent DoD solicitations for topics in those agencies.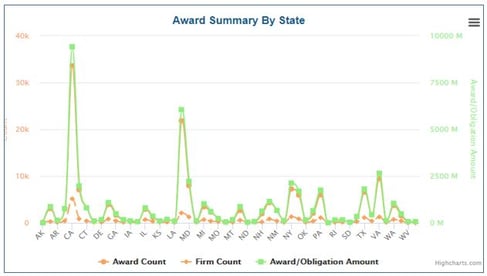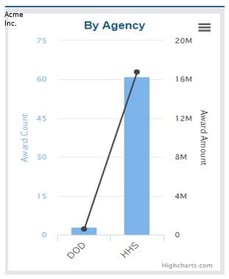 ---
SBIR & STTR Grant Awards by Agency
Consider the number of awards and dollars granted in each government agency. You can then look at the trends for any agency's funding. If you find a DoD agency of interest, look at the Defense Innovation Marketplace site, and the strategic direction documents included. These can be researched to understand in more depth the particular technology investments of the agency. A company can then better determine where its strengths and resources could be targeted.
Find dashboard link, here, provides filtering option by:
Agency
Phase
Program
Year
State
These filters provide a wide range of selections to understand your own company's activity and that of the general R&D business community. Startup companies can investigate the types of research being funded, trends and which agencies are pursuing technology aligned with their company's strategic focus.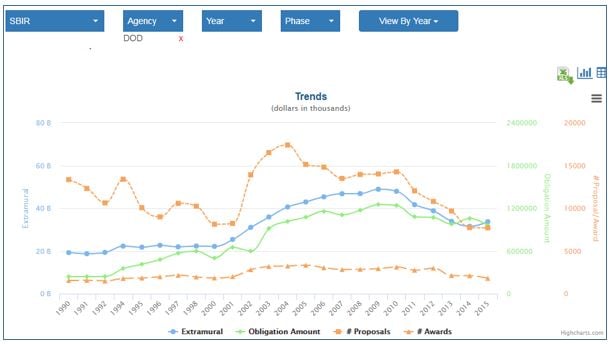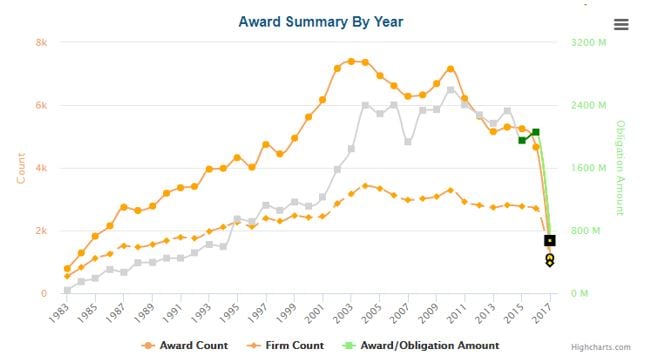 ---
SBIR & STTR Grant Awards for a Particular Company
At a more internal company level, one can look at its own award history.
Over the period from 2013 to 2017 there were 6617 companies were issued awards. Looking into that number, 48% of the companies received only 1 award, 22% received 2 awards and 5 % of the companies received 10 or more awards. Midé received 21 awards during that 5 year period. Midé has increased its focus on agencies and grant topics that are consistent with the company's strategic objectives and the technology skills of its resources. It is also looking at the evolving needs of the DoD to expand company technical expertise for future opportunities.
The DoD makes up 81% of Midé's awards, and of the DoD agencies granting awards, for Midé, the Navy has the highest percentage at 36%. You can then explore aspects of your company's activity with this information.
A company can ask itself questions with this knowledge. Is there a focus on particular technology areas or agencies? Are the topics selected for proposals scattered? Is this intentional or random. Is your company chasing dollars or targeting grants that are consistent with your company strategic objectives and expertise?
What factors are contributing to the success in particular areas?
Alignment with the company strategy, capabilities and skills for the needed solutions.
Strong deliver and performance with the agency program teams.
Good working relationships with the agency program teams?
Proposals being proactively developed with sufficient time and peer reviews.
On the converse, for proposals to agencies that are not as successful, are these success factors in place? Also, review the lost proposal debriefs for any reoccurring weaknesses.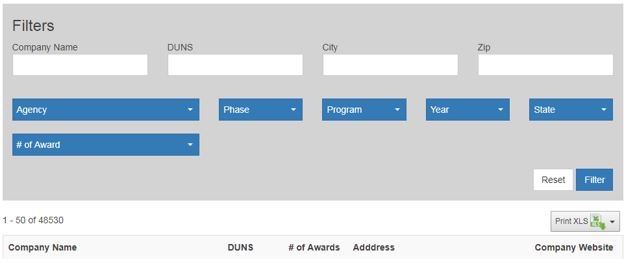 ---
The reports and filters can also provide the number of Phase II awards. Understating your company's conversion rate of Phase I to Phase II projects is extremely critical. Use the historical information available to see whether the conversion rate is high or low. A deeper analysis can then conducted. This is an important area given the significant award dollars and potential for later commercialization opportunity.
---
Conclusion
There are many combinations of reports and filters that can provide useful information to better understand the SBIR/STTR program opportunities. Experiment and become familiar with the SBIR site and Awards section. Getting to know the landscape will better position your company for R&D work and success.
Please don't hesitate to reach out if you have any questions on the submission process and would like to explore a partnership with Mide. We are always looking for new technologies and new companies to partner with and help find solutions to our government's toughest technical problems!
For more context and best practices on SBIR & STTR proposals, check out our post on How SBIR Grants can Help (or Hurt) your Small Business.
---
Disclaimer
Rick is the Vice President of Corporate Programs at Mide. He started out at Mide to focus on strategic planning and business development. He has an engineering and business background and enjoys interacting with the engineers discussing real world applications for their technologies. He provides insights from his past work experience in other industries and on management techniques.
---
Rick is the Vice President of Corporate Programs at Mide. He started out at Mide to focus on strategic planning and business development. He has an...